I don't do window shopping,
I like to do things properly, everything or nothing.
That's something I've been doing since I was a kid.
For me, everything or nothing meant tangible control.
I had made the decision in my mind that I was not special, that I was not special enough to be loved.
I grew up learning that pleasing people meant being loved; otherwise, how could I explain to the child I was that my father didn't want us and that his infidelity was preferable to love his own family?
I had no say in the matter.
But I was in command of my body and mind.
I could shape my body to my liking until it was worthy of the love I craved.
I could satisfy myself by defeating an obese body in that game.
I wasn't obese, far from it, but I didn't like what I saw in the mirror, so no one else would either.
I kept that image for years, training myself to be a perfectionist in order to compensate for the flaws I saw in myself by being the perfect everything.
My distorted view of my body couldn't see that I didn't allow my mind and body to flourish, that I didn't dig deep enough to see the many beautiful images of myself in my own mirror.
Masterpieces of art aren't perfect, but they are beautiful, unique, and convey a strong message.
As the artist grows, so does the art.
Working with my Lifecoach and literally feeling through my body with my Pilates practises helped me see that.
I learned that my body is first and foremost for me to love, that no outside circumstances determine my worth, and that I will be loved because I am learning to love myself.
Every day, I make decisions to learn to respect my body because I genuinely want to learn to love the woman in the mirror unconditionally.
I don't always like it, but I always love it.
And that's okay because it allows me to change what I don't like with love while also accepting the journey to grow because we never stop growing.
Can you identify?
Would you like to look at yourself in the mirror lovingly?
Would you like me to walk alongside you as you develop this strong, beautiful mind and body?
Can you see the desired self?
I strongly believe Pilates is for everyone and I teach my classes the way I teach because we are all beautiful pieces of art and I treat them with passion.
To work with me as a coach is another option to learn to trust yourself and regain that sense of self.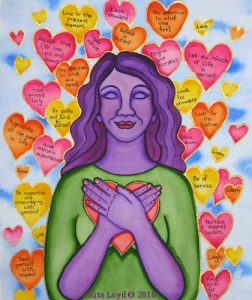 E-mail me how you can work with me