Your body is the key to realising your dreams.
What exactly does that mean?
'Has she gone insane?' I understand what you're saying.
I certainly do not intend to make a living by selling my body, so cross that off your list!
Your body's ability to sustain your life is astounding.
It is nothing short of a miracle how it reacts to your emotions and compensates and keeps you going when chaos strikes and the body and/or mind are out of commission.
What is undeniably true is that your body and mind are inextricably linked.
We've all heard the saying, "You have nothing if your health is gone!"
That is correct, and we often take our health for granted.
But have you thought about your Mind and Soul?
Your CORE is self-esteem and self-confidence!
You can't do mindset work unless you engage your body!
Your posture, weight, and muscle tone are all indicators of how you feel about yourself!
Have you ever attempted to be successful while not feeling good about yourself?
It doesn't seem to work, does it?
This is why
THE KEY TO YOUR DREAMS IS IN YOUR BODY!
This is why
I created this incredible container
PILATES INSTEAD OF PILLS
More about it tomorrow.
Take note of new classes added to time table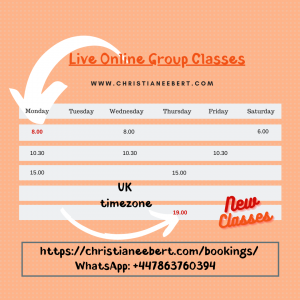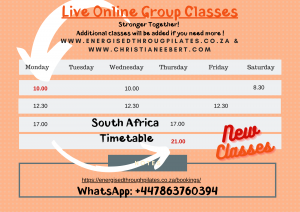 Be excited,
because you are worth it!
love Christiane